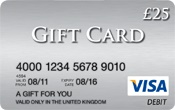 1st November 2014
Thomas Buckingham
Christmas Joy
Celebrate Christmas with us. We have Visa Gift Cards to give away during November and we want to give them to you. It is very simple, buy something and we will reward you. Can't be easier than that
This offer is not just limited to online orders, if you buy products from us that we don't promote on the website and/or you deal directly with one of our account managers, this offer is also open to you. In short, it is available to everyone.

Place an order for over £350.00 (excluding VAT) through the web site or with an account manager during November we will give you a £25.00 Visa Gift Card

Place an order for over £800.00 (excluding VAT) through the web site or with an account manager during November we will give you a £50.00 Visa Gift Card
---
The Small Print
There isn't any! - As long as your order is above the threshold, as stated above, then you are entitled to claim your voucher. Use Discount Code: VISA when ordering online or quote it when ordering from your account manager.
---
Things To Know
When will I Get My Card? - Cards will be sent out to qualifying customers in the first week of December, in time for Christmas.

Is It Really So Easy? - Yes. We want your order and in return we want to reward you. Spend it on yourself, or give it to a family member or friend as a Christmas present. That decision is yours!
Frequently Asked Questions - If you have any questions regarding the usage of the Visa Gift Card click here
---